Stencil cleaning rolls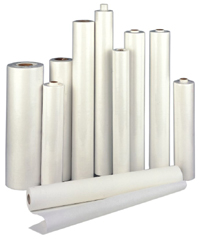 Our stencil cleaning rolls are great cleaners and very economical solution for automatic cleaning of stencils. Wiping material is very strong still it is porous to be effective with vacuum system. Great cleaning characteristics, high level absorbent and extremely low in lint.

We offer standardized rolls for various printers like MPM, DEK, Juki, Ekra, Fuji, Sanyo, Yamaha, Panasonic, KME, Minami, etc. We could also manufacture customized stencil cleaning rolls to fit all requirements regarding external dimensions and used wiping material.
Would you like to try our stencil cleaning rolls? Please contact us for free samples.
| Make | Core lenght [mm] | Paper Width [mm] | Core ID [cm] | Roll lenght [m] |
| --- | --- | --- | --- | --- |
| MPM | 456 | 445 | 19,4 | 14 |
| MPM | 456 | 305 | 19,4 | 14 |
| MPM | 456 | 220 | 19,4 | 10 |
| DEK | 530 | 300 | 19,6 | 11 |
| DEK | 530 | 400 | 19,6 | 11 |
| DEK | 530 | 515 | 19,6 | 11 |
| EKRA | 400 | 400 | 12 | 8 |
| Panasonic | 350 | 350 | 38,1 | 30 |
| Panasonic | 410 | 410 | 38,1 | 30 |
| Panasonic | 530 | 530 | 38,1 | 18 |
| Panasonic | 410 | 410 | 38,1 | 30 |
* any other make, widths, lenght on reguest